It is a sad truth that not all pregnancies result in the delivery of a healthy baby. About 1 in 5 pregnancies result in women experiencing pregnancy loss. Either a miscarriage or ectopic pregnancy.
Most pregnancy losses happen before 12 weeks of pregnancy. Often before you have shared the news with your family and friends. This can feel very isolating. A very small number of pregnancies are lost before they are able to be born alive (between 14 and 24 weeks gestation). This section of Baby.ky aims to provide support to parents suffering pregnancy loss. Here, you'll find explanations and useful resources.
Early miscarriage
This is when a pregnancy is lost in the weeks between a positive pregnancy test and 12 weeks gestation. Usually, the woman will have pain and/or vaginal bleeding. This gives a clue that something is wrong with the pregnancy. In some cases, there is no sign that anything is wrong and symptoms of pregnancy continue. But a routine scan shows that the pregnancy has stopped developing. This is known as a silent or missed miscarriage.
Finding out that your pregnancy is not going to continue can be devastating news. You may experience all the stages of grief that we recognise when we lose a loved one. But often this grief is hidden if you hadn't shared the news of your pregnancy yet.
First, there is the physical side of miscarriage to deal with. There are three options for managing a miscarriage.
1. You can wait and let your body manage the miscarriage.
2. You can have tablet medication to encourage the body to expel the pregnancy tissue.
3. You can have a small operation to remove the pregnancy tissue.
Your gynaecologist will discuss the pros and cons of each option with you. Taking into account your individual circumstances.
After the immediate physical side of miscarriage, it's important to take some time to recover. There is a great temptation to try to carry on as normal. But it's a good idea to take some time away from work to come to terms with what has happened.
Ectopic pregnancy
A pregnancy should develop in the cavity of the womb. But in 1 in 100 pregnancies this doesn't happen known as an ectopic pregnancy.
An ectopic pregnancy usually develops in the fallopian tube. The fallopian tube connects the womb to the ovary. The muscle of the fallopian tube is very thin. So as the pregnancy develops the tubes is stretched and can rupture which can lead to internal bleeding. This is a rare complication of pregnancy. But very serious and usually needs an urgent operation to stop the bleeding.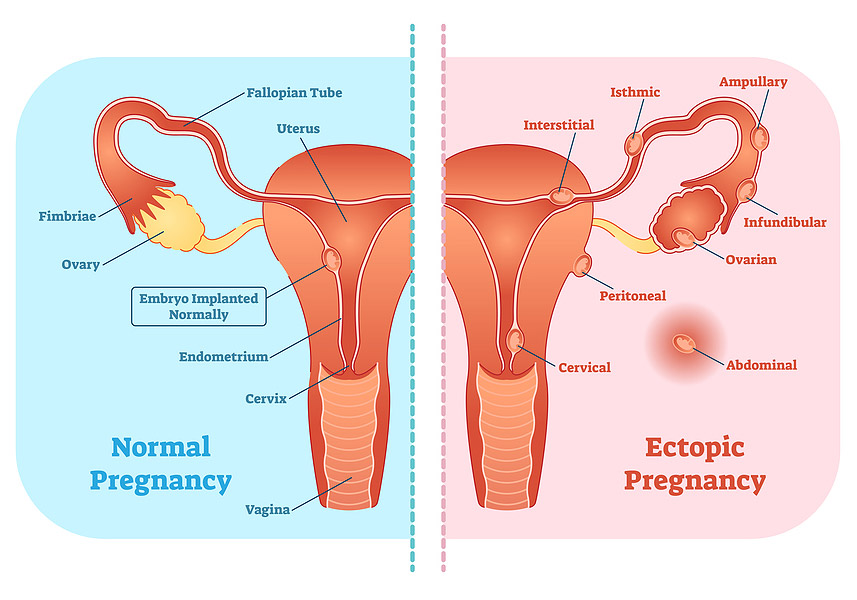 The symptoms of ectopic pregnancy are difficult to spot. There are all the usual symptoms of pregnancy initially. With no sign that the pregnancy may be developing in the wrong place.
Sometimes women have slight bleeding and may get pain on one side of the pelvis. If you develop a sudden onset of pelvic pain in pregnancy. Particularly if it's linked with fainting, diarrhoea and/or pain in your shoulders, seek urgent advice from your doctor, gynaecologist or the Emergency Room team.
You may be at increased risk of an ectopic pregnancy if you have had a pelvic infection or chlamydia infection. Having a previous ectopic or any pelvic surgery is also a risk factor for ectopic pregnancy. If this applies to you seek advice from your GP or gynaecologist as soon as you fall pregnant.
After the physical side of an ectopic pregnancy, it's important to take some time to recover. At first, there will be the physical recovery from the operation which may take up to a week.
After that, there is a great temptation to try to carry on as normal. But it's a good idea to take some time to come to terms with what has happened.
Support
If you have told your support network about your pregnancy it can make it very hard to tell them about a pregnancy loss. This can feel even harder if some of your friends or family are currently pregnant.
It's important to remember that miscarriage or ectopic pregnancy are not caused by lifestyle factors. Your pregnancy loss is not caused by any actions you did or didn't take. This is not your fault.
It can be helpful to reach out to other people who've gone through a similar experience. The internet is a great resource for this. Don't be afraid to reach out to your GP or gynaecologist too, they are there to support you.
More Advice on Experiencing Pregnancy Loss
It's also worth checking out help, advice, and any experiencing pregnancy loss posts in our Baby Facebook Group. It allows you to ask questions, gain access to basic advice and share experiences with others facing the same new experiences. You can join here: https://www.facebook.com/groups/babycayman/